According to Jim Collins, Author of Good to Great – "The X-Factor of great leadership is not personality, it's humility." As a manager or front-line Leader, actively and regularly demonstrating respect is where the rubber meets the road for influencing and inspiring your people to do their best to produce the results you desire. Demonstrating respect is an act of humility that can pay vast dividends.
Your job, as a manager or front-line leader, is to get things done, with and through the people you lead and help create an opportunity for them to be successful. To be successful in your leadership role, it is important to remember your people want to be led by someone they respect and who in turn, demonstrates respect for them, as an important part of the team.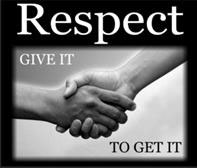 Since the manager and front-line leader are also required to make the best decisions in their area of responsibility, it is important to get as much relevant information in the 'pool' as possible from which to choose the best path forward. Smart leaders understand and make best use of their resources. They acknowledge their most valuable resources are the people they lead. They remind themselves daily their team members are smart and have a valuable perspective, due to their position and experience, which can be leveraged to help make better decisions.
To tap into your team members perspective, knowledge, and experience it is critical to ask good questions, listen, and respond in a timely and appropriate manner.
Remember, your people will judge you by your behavior not your intentions. Consider practicing the following "Five-Part Listening Package" to demonstrate respect for those you lead.
Part I – Engage
Group meetings are important, but one-on-one, face-to-face engagement can be powerful. It sets an environment that communicates "I value you personally and individually."
Part II: Ask good questions
Being a great listener is reinforced by the ability to ask good questions. An effective template for asking good and meaningful questions of individual team members include:
"What do you think?" They have a perspective that may allow you to make better decisions.
"Why do you think that?" What is the evidence that guides your thinking?
"What would you do differently?" Treat them as a partner in owning the process or problem.
Part III: Listen to their responses
Don't try to fake it; they will know if you do. Be genuinely interested in their perspective. They are helping you make better and informed decisions to be more effective in your leadership.
Part IV: Timely response to follow up
Acknowledge their feedback as they give it and circle back, as appropriate, to confirm understanding and next steps.
Part V: Follow through
Make and keep commitments. When we don't follow through with our commitments, others may interpret this as 'not listening' and a lack of respect. When you engage your people, listen deeply, follow up, and follow through on your commitments; the people you lead will feel respected and will want to do what you want them to do.
"Leadership is getting people to do what you want them to do because they want to do it." Dwight David Eisenhower, 34th President of the United States